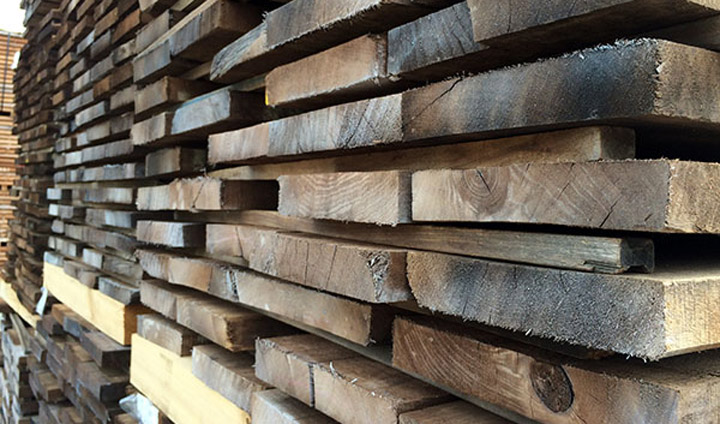 Now that we've explored the differences between the typical NHLA lumber grading standards and the lower standards for Walnut (see Parts 1 & 2), the question remains, why is Walnut the exception to the rule? This question deserves a reasonable answer. In our final article in this series, we'll attempt to give a logical explanation for this grading disparity.
Why is Walnut Graded Differently Than Other Domestic Hardwoods?
Walnut is given a lower grading standard simply because of the way Walnut trees grow. They tend to have a higher number of branches than most other hardwood trees do. They also have a large sapwood layer. Steaming can get rid of some of the dramatic color differences between Walnut's heartwood and sapwood layers. Even if this extra step is taken, getting Walnut to have a homogenous appearance can be quite a challenge when you're dealing with both heartwood and sapwood. The grain you see on Walnut boards is also more irregular and unpredictable in pattern than you usually find with other species. In short, Walnut has a lower grading system because it's so different from other species of wood. To use the old adage, it's like comparing apples to oranges.
Even though it's so atypical, Walnut is still highly sought-after for certain applications. Many cabinet makers and flooring specialists love the look of Walnut, and so do their customers. Due to such popularity coupled with Walnut's unique features, the only way to get enough supply to meet the demand was for the NHLA to lower standards for this species. Those who have become skilled in working with Walnut have learned how to work around the knots and other imperfections in the wood. They may start out using smaller boards, which is perfectly fine depending on the purpose they have in mind for the wood.
Keep in mind that you can always seek out higher grade Walnut lumber if you really want it for your project. The NHLA grading standards are in place as a bare minimum standard so you'll know what to expect when you make a purchase. If you do expect above grade quality lumber, however, you'll need to realize that it will come with a higher price tag. That's because the packs will have to be carefully gone through in order to pick out the very best pieces.
Remember, though, that grading systems set the minimum allowable standard. There will always be better than grade lumber, and we recognize that many customers demand and require even better quality than the rules state. If this is the case, you can expect additional cost. You'll need to pay for that extra time and labor, as well as pay an additional fee because your demand for the highest quality will lower the value of the rest of the pack when a supplier seeks to sell it to other customers.
Walnut may seem to be of lower quality than other hardwoods, but that's only because of the nature of this particular species and how the grading system has been adjusted accordingly. If high-quality lumber is important to you and you're determined to go with Walnut for your next project, be certain to talk with your lumber dealer about your preferences. They should be able to let you know how high of a price you'll need to pay for lumber that goes above and beyond the minimum standards.